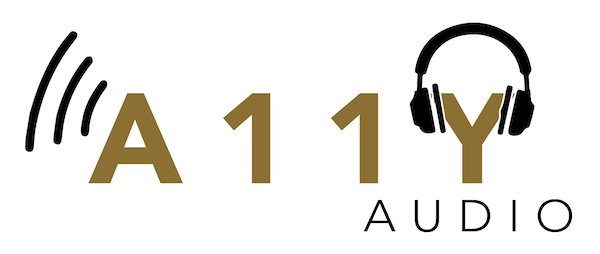 Welcome to A11Y Audio. This is an audio series from the IS Technology Accessibility Team, part of the Technology Accessibility Program or TAP. TAP's goal is to raise awareness on accessibility's importance, provide resources for campus members, and to offer guidance on how we can all add technology accessibility practices into our campus roles. A11Y Audio will cover different topics relating to technology accessibility, and introduce you to collaborative partners across our campus community.
What does A11y mean?
A11Y is shorthand for accessibility, reflecting that there are eleven letters between the A and the Y. You may hear A11Y pronounced as accessibility, as a-1-1-y, or as a-eleven-y. A best practice for all abbreviations, including A11Y, is to ensure that your meaning is clear to your audience.
A11Y bears a striking resemblance to the word "ally", so using it may invite questions about its meaning and give you a chance to act as an ally in spreading awareness about the campus endeavor to improve technology accessibility.
Topics
Alternative or alt text
Narrator: Jonathan Milam
So let's talk about alt text. What is it, and why should you use it? Alt text, also called alternative text, is a short, concise written description that conveys the meaning and function of images in their context. It is crucial for those who can't see an image either because of a disability or technology limitation such as a page that doesn't load quickly enough, or browsers that are set to block images. Also, by providing descriptive alt text for your social media images, you can be sure you're reaching the broadest audience possible for your digital content, while using an accessibility best practice.
For most web page images, a visual scan won't tell you if alt text has been added, but someone using certain assistive technology, like a screen reader will have access to the alt text.
When writing alt text, take a moment to reflect on the image and its importance. Make sure that your alt text is grammatically correct, contains punctuation, reads succinctly, and is contextually appropriate.
No need to add words like "graphic of or "image of" since screen-reading software knows when it encounters an image and communicates this to the user.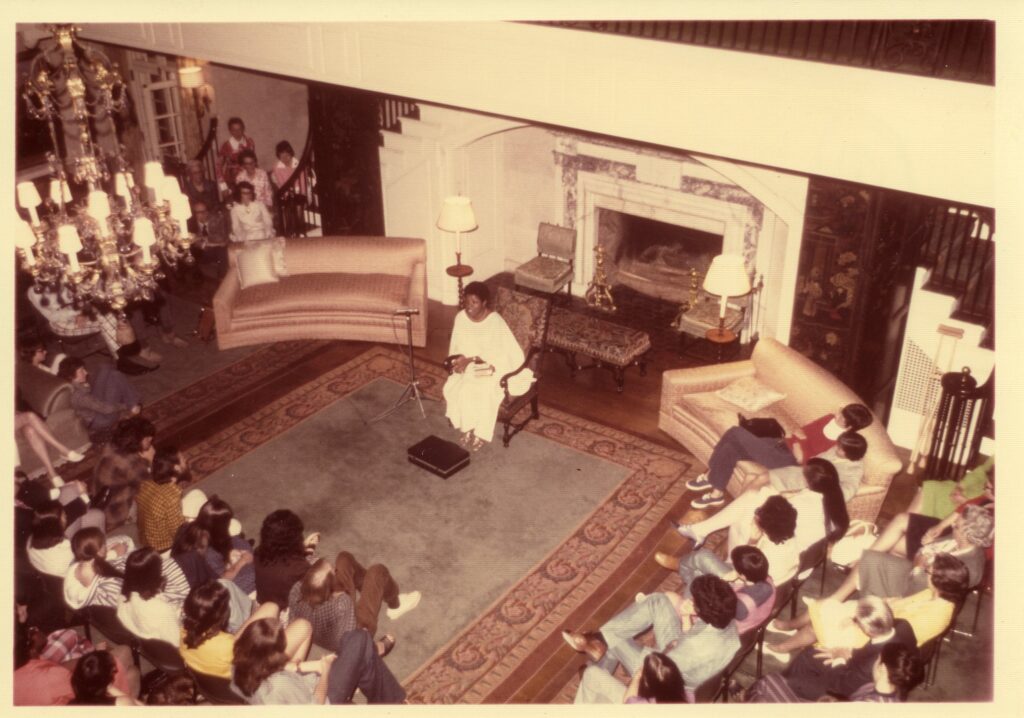 So for our alt text photo, our caption reads: "Seated in front of an audience of Wake Forest University Students, Maya Angelou reads her creative writing in the Reynolda House reception room in 1973." This event continues to hold rich cultural significance. Having correct, informative alt text assists those using screen readers and sparks curiosity around the image itself
Assistive Technology
Narrator: Robert Vidrine
Assistive technology is any tool that is used to increase, maintain, or improve functional capabilities for engaging with material. Such tools include mobility devices and special switches like sip-puff and pointing devices to support people with limited movement or motor functionality. Adaptive strategies like Keyboard-only navigation for people who cannot use a mouse or who choose not to. Braille displays and screen readers support people who are blind or low vision, and captions help language learners and those who are deaf or hard of hearing. If technology is not designed with accessibility in mind, assistive technology may not be able to function well and people may encounter barriers. Many people use assistive technology to thrive within the digital space, and accessible systems and content ensures successful engagement for those with disabilities who rely on assistive technology.
Captions
Narrator: Sarah Wojcik-Gross
Captions are a time-synced text version of the audible part of a video, whether it's a tv show, movie, or computer presentation. Accurate and complete captions include spoken words and meaningful sounds, and might be called "quality captions". Quality captions improve engagement for everyone and remove communication barriers for people who are hard of hearing or d/Deaf. They are also important to anyone who benefits from reinforcement of spoken information through text. Closed captions can support concentration and understanding, and can have a significant positive impact on those learning a language, people with learning disabilities, those who are neurodivergent, and more. They also provide environmental support for varied situations, like loud or quiet spaces. Finally, captions can help people with comprehension of dialogue when technical terms, jargon, or accents are in use. Try to use quality captions on all your videos, even those for casual sharing!
Color considerations
Narrator: Jonathan Milam
What does color contrast mean and why do color choices matter? Color contrast is the difference in brightness between foreground and background colors. Color contrast impacts the readability of your visual content on the web and in your printed materials.
Good color contrast helps improve text legibility for your audience, including those with low vision or color vision deficiencies. When choosing fonts, pick the largest reasonable fonts and legible font types like sans serif and fonts with distinct letters. This will make your text as legible as possible. Finally, make sure color isn't the only way you convey information, always give another clear indication like using a red x and green check or better yet a specific word like "important" to signify the difference shown in color.
Keyboard navigation
Narrator: Jonathan Milam
Keyboard navigation is critical to good technology accessibility, and is also something you could use if your mouse battery dies.
It's easy to test a website or software app to see if it works for people who rely on or who choose to use keyboards to navigate. Just be sure that all of your actionable elements can be accessed using the tab and shift+tab keys. You'll also want to be sure you use focus indicators, which are commonly presented as an outline around each web element. This helps someone visually track their location throughout your site. If you're interested in doing more testing, there are free screen readers available like Narrator in Windows, and Voiceover on Macs and in iOS that can help guide you through this part of your accessibility journey!
Learn More
Reflow and magnification
Narrator: Jonathan Milam
We've talked about accessibility using alt text and color contrast, so now let's talk about reflow and magnification. For those in your audience with low vision, they may need to enlarge text to make it easy to read. Sometimes only a small amount is needed, and sometimes a magnification increase is needed to 200 or even 400% in order to read it.
When a person uses the zoom feature in a browser to scale your digital content, the text should reflow, which means it is presented in one column. This makes it easier to read and eliminates scrolling in two directions (only up or down scrolling should be required). This is especially important for low-vision users and for those using tablets and smart phones when visiting your website.
Interviews
Brian Calhoun and Erin Binkley
Erin and Brian are two campus professors and provide us with a very insightful interview about the importance of technology accessibility and tell us about their campus community podcast.
Elena Clark
Elena Clark, a professor in the Department of German & Russian, connects with us us to talk about how technology accessibility is part of her work, research and writing.
Davita DesRoches
Davita DesRoches is the Alternative Media Specialist for the Center for Learning, Access, and Student Success, and joins us to talk about her enthusiasm for accessibility.
Libby Welborn
Libby was the IS fellow for this academic year. Listen to our interview with her to learn about her future plans!
Meredith Mulhearn
Check out our inaugural interview in our A11Y Audio series with Meredith Mulhearn, and hear how her work as an artist intersects with technology accessibility.
---
More videos relating to technology accessibility are available by subscribing to our Kaltura channel. You can also visit the A11Y Audio Kaltura playlist directly as well.