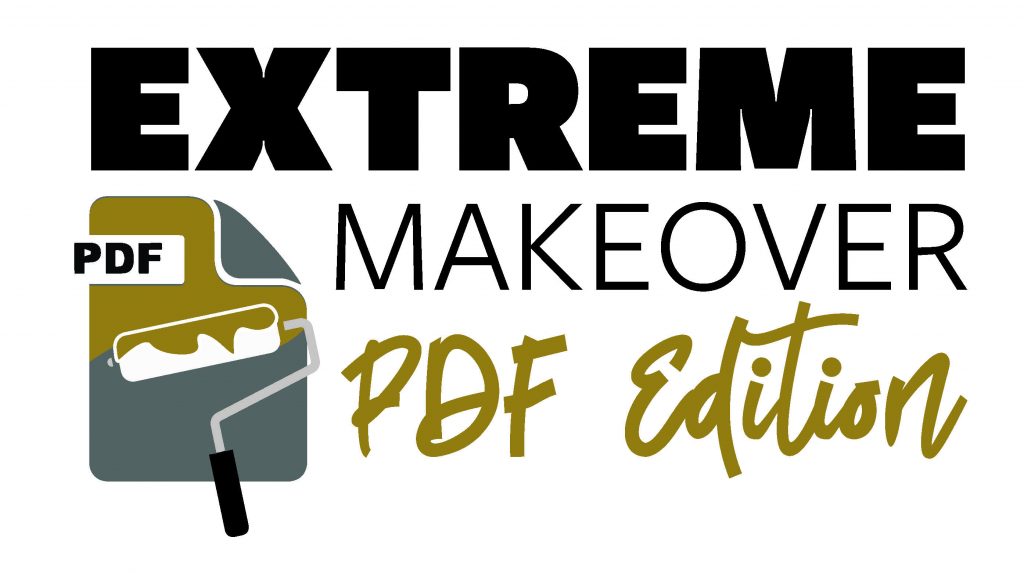 For many years, PDFs were considered the best document type for any and all purposes, but our understanding of technology and users has evolved. If not crafted with attention to accessibility, PDFs can serve as barriers for individuals with disabilities and can limit your audience. Revising or converting PDFs is an impactful way to make your websites more accessible.
During the month of November, Wake Forest will be holding an Extreme Makeover: PDF Edition! Originally started at NC State, now sponsored by the WFU IS Technology Accessibility Team and the ACWG, this event aims to make websites more inclusive by eliminating inaccessible portable document format (PDF) files. Each week, participating offices will have the opportunity to take on a specific task to reduce their inaccessible PDFs: assessing the PDFs available on their websites, creating accessible digital documents, converting PDF forms, and improving necessary PDFs with accessible features.
Each week in November will have a dedicated theme to guide participants through eliminating inaccessible PDFs on their websites.
Get Involved!
To join the Makeover, contact TAP@wfu.edu.
Explore more resources:
Blog – 3 Tips for Better Digital Documents
Creating Accessible Basic Google Documents
PDF Accessibility (from WebAIM)
Microsoft Word Accessibility (from WebAIM)
Overview of the PDF Makeover
Week 1 (November 1 – 5) → Identify Next Steps for the PDFs on your Websites
The first week is dedicated to assessing the inventory of PDFs on the websites managed by participants. This exercise is incredibly helpful because many people find there are old PDFs still available on their websites that are not only inaccessible, but outdated. Some can quickly be identified and deleted. Participants will determine which PDFs are needed, to later convert them to another accessible format or improve the PDF's accessibility.
Week 2 (November 8 – 12) → Transition PDF Documents to Web-based Formats
Participants will learn the benefits of converting PDFs to other formats, such as web pages, text documents, or Canvas pages to enhance accessibility and maximize engagement with a broader audience. Participants will receive guidance on how to create these accessible pages.
NOTE: Participants are highly encouraged to schedule time with the IS Technology Accessibility Team for further conversation.
Week 3 (November 15 – 19) → Convert PDF Forms to Web-based Forms
PDF Forms can be complex to keep accessible, so in many cases it is preferable to convert them to accessible web forms for more engaging and dynamic ways to share or collect information. Participants will receive information on how to create accessible web forms, specifically Google Forms, and be provided with examples.
Week 4 (November 29 – December 3) → Make Remaining PDFs More Accessible
Participants will learn ways to evaluate the accessibility of their remaining PDFs and ways to repair and enhance their accessibility.
Virtual and on-demand training on this topic will be available. In addition to the resources provided by the Technology Accessibility Team, we encourage you to visit LinkedIn Learning to learn more about creating accessible documents.
Participants are encouraged to reach out to the Technology Accessibility Team for more conversation on the process of repairing their PDFs for accessibility and inclusion.
At the end of the last week of the Makeover, the Technology Accessibility Team and the Accessible Content Working Group will review the list of PDFs that participants have deleted, converted, or made into accessible PDFs. Those participating groups with the greatest improvements will be announced as winners, and all participants will also receive a digital completion badge for the first annual WFU Extreme Makeover: PDF Edition.
---
Made Possible By:
Accessible Content Working Group
Amy Archambault
Damian Blankenship
Gregory Brunick
Brianna Healey
Davita DesRoches
Kevin Gilbertson
Suzanne Hawks
Carrie Johnston
Jonathan Milam
Amy Mohan
Matt Nelkin
Jeff Nichols
Isabella Ryan
Jen Ryan
Don Shegog
Michael Shuman
Eudora Struble
Robert Vidrine
Lloyd Whitehead
IS Technology Accessibility Team
Jonathan Milam and Eudora Struble
Special thanks to:
North Carolina State University for originating this event and permitting us to adapt it for our use
Emily Gregg, IS Digital Media Specialist, for her graphic design expertise