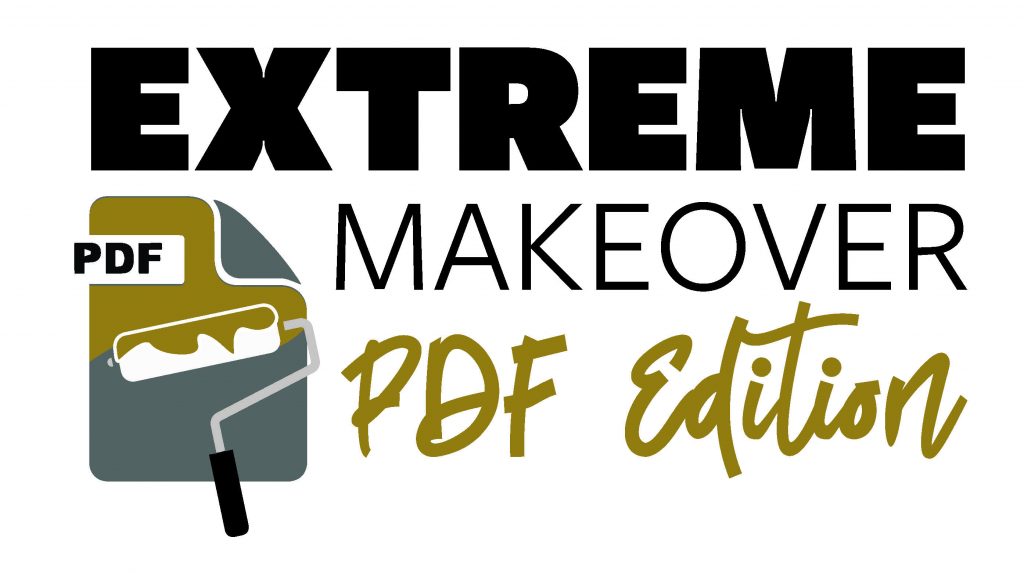 For many years, PDFs were considered the best document type for any and all purposes, but our understanding of technology and users has evolved. If not crafted with attention to accessibility, PDFs can serve as barriers for individuals with disabilities and can limit your audience. Revising or converting PDFs is an impactful way to make your websites more accessible.
During November and early December, Wake Forest will be holding the second annual Extreme Makeover: PDF Edition! Sponsored by the WFU IS Technology Accessibility Team and the Accessible Content Working Group, this event aims to make websites more inclusive by eliminating inaccessible portable document format (PDF) files.
Each week will have a dedicated theme and participants will have the opportunity to take on a specific task to reduce their inaccessible PDFs: assessing the PDFs available on their websites, creating accessible digital documents, converting PDF forms, and improving necessary PDFs with accessible features.
Get Involved!
Join the Makeover by completing our online registration form!
Week 1 (November 1 – November 7) → Learn about accessible documents and why they matter
Participants will learn the benefits of accessible documents and why converting PDFs to other formats, such as web pages, Google Docs, or Canvas pages, can enhance accessibility and maximize efficiency and audience engagement.
Participants will be provided with a Google sheet of their PDFs (WordPress inventory or their course PDFs) and can begin assessing their pending changes.
Week 1 Action Items
Learn more about why accessible documents matter and how inaccessible documents, including some PDFs, can hinder engagement. Check out the "Learn More" section for recommended videos!
Get to know your list of PDFs, provided to you on a Google sheet. Start identifying those items that are outdated or are otherwise ready to be removed. This first step can be very productive and satisfying!
Week 1 tips
Tips when working through your list of PDFs:
If it's out of date and no longer needed for the public, then mark it for deletion.
If you are not sure which option will work best between web pages, Google Docs, or an accessible PDF, you can add more than one label on your sheet and we can help you decide as the Makeover continues.
If your document is made for digital sharing and will be updated periodically, especially if it is primarily text, it is a great fit to move to a web page, or a Google Doc if a web page isn't feasible.
If you have an elaborately-formatted document that you anticipate your audience will print but also share digitally, consider putting up your info as a web page, then providing an optional printable and accessible PDF.
For articles, such as scholarly documents, share a web-based version if you can. If a PDF is the only option, Week 4 will review how to identify the most accessible versions.
We recommend transforming all PDF forms into more accessible web formats, like Google Forms. (covered in Week 3).
Learn more
Join us via Zoom for an optional session on November 2nd from 2:30-3:30 to talk about what makes documents accessible or inaccessible, and why sometimes PDFs aren't the best solution!
Here are some training videos you might find helpful this week:
This video from LinkedIn Learning provides a general overview of why accessibility is important, including personal and legal motivations.
These videos from YouTube provide additional context about inaccessible VS accessible PDF documents and Microsoft Word documents.
Week 2 (November 8 – November 14) → Identify next steps for your PDFs
Participants will dedicate this week to assessing the inventory of PDFs on their Google sheet. This exercise is incredibly helpful because many people find there are old PDFs still available on their websites that are not only inaccessible, but outdated. Some can quickly be identified and deleted.
Participants will determine which PDFs are needed, to later convert them to an accessible format or improve the PDF's accessibility.
Week 2 Action Items
Update your Google sheet with which PDFs can be:

Deleted/removed from your website or course
Converted to an accessible format, such as a Google Doc, web page, Canvas page, or web form (Note: we suggest moving most items you keep to these formats!)
Kept as a PDF and updated to include accessibility features

Delete/remove any PDFs identified as outdated/no longer needed. (If needed, archive it elsewhere like in a Google Drive.)
Learn more
Join us via Zoom for an optional session on November 9th from 1-2 PM to learn how to use and review the sheet that lists your PDFs, with conversation and guidance on some good first steps.
Week 3 (November 15 – November 21) → Transitioning PDF documents and forms to more accessible formats
Participants will begin to convert their PDFs to an accessible format or improve the PDF's accessibility.
Week 3 Action Items
Week 3 tip
If you think your PDF form needs features that are beyond those available in Google Forms, or you feel that your PDF would function better as a web page or a Canvas page, contact the Technology Accessibility Team to discuss your options.
Learn more
Join us via Zoom for an optional session on November 16th from 8:30-9:30 AM to review some basics of creating more accessible Google or Word docs, websites, or Canvas pages as replacements for some of your PDFs.
Week 4 (November 29 – December 5) → Make Remaining PDFs More Accessible
Participants will learn ways to evaluate the accessibility of their remaining PDFs and ways to repair and enhance their accessibility.
Week 4 Action Items
Watch the instructional segments listed in the LinkedIn Learning Extreme Makeover Collection, to learn about the basics of PDF accessibility and remediation within Acrobat. (All the segments are from the Creating Accessible PDFs LinkedIn Learning course, which is more than 5 hours long. This is a great full course to explore if you're looking for a more comprehensive introduction to PDF Accessibility.)
Choose a PDF marked for remediation on your worksheet and begin the remediation process using what you learned in the videos above as well as the resources shared on this webpage.
Once you're sure it is as accessible as possible, consider modifying the name of your PDF to identify that it has been made accessible. Remember: if you rename it for accessibility you should be certain it is accessible!

Example: math_tutorial.pdf to math_tutorial_a11y.pdf
If you're curious, check out this explanation of what a11y means.
Learn more
Join us for an optional, but highly recommended, two-hour Zoom session on November 30th from 9-11 AM to review the essentials of remediating PDFs to make them accessible, discuss the tips and concepts shared in the recommended video training. Time for Q&A on this process will be included.
---
Made Possible By:
Accessible Content Working Group
Gregory Brunick
Norah Elmagraby
Brianna Healey
Davita DesRoches
Kevin Gilbertson
Suzanne Hawks
Carrie Johnston
Jonathan Milam
Amy Mohan
Matt Nelkin
Jeff Nichols
Don Shegog
Michael Shuman
Eudora Struble
Robert Vidrine
Libby Welborn
Lloyd Whitehead
IS Technology Accessibility Team
Jonathan Milam and Eudora Struble
Special thanks to:
North Carolina State University for originating this event and permitting us to adapt it for our use
Emily Gregg, IS Digital Media Specialist, for her graphic design expertise